$100k Program – Grow Your Way To $100k
Click below to buy our $100k Pro Program.
This comprehensive program gives you everything you need to build a solid business and make 5 figures in your first year.
Forum Access Included, Details Below
In the Included 16 guides Here's What You'll Learn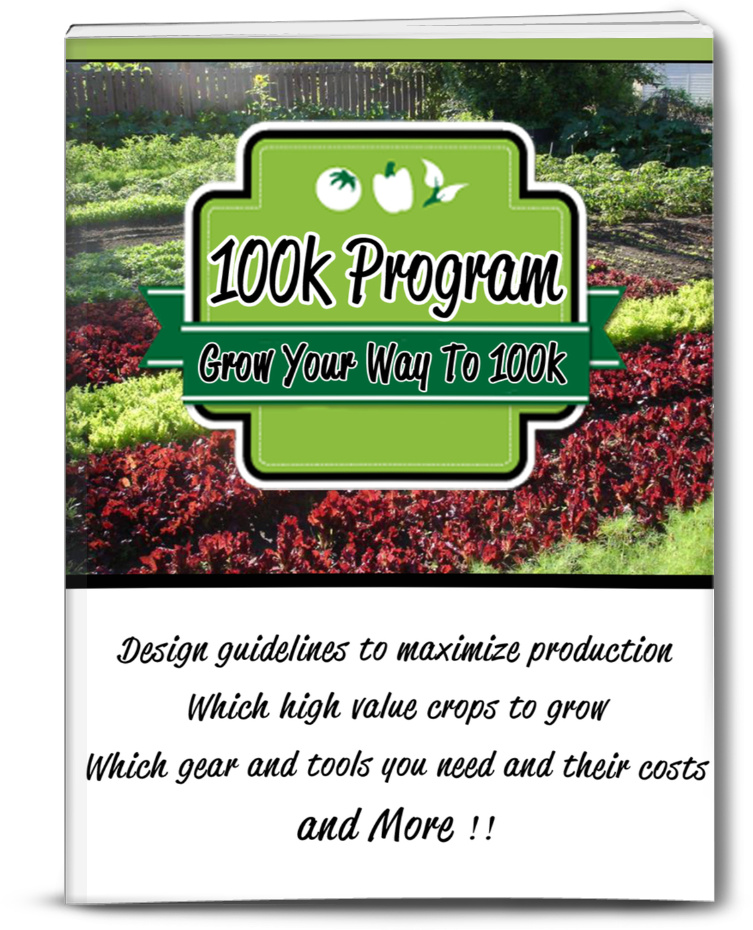 The 100k Program will teach you how to:
Design guidelines to maximize production  
A relay planting concept that produces a consistent supply of a wide variety of vegetables for the longest possible time without costly season extension
Which high-value crops to grow 
Which gear and tools you need, and their costs
Day-to-day workflow to manage all the various growing and operational tasks
Professional grade harvesting and prepping for market protocols
Pricing schemes
Best marketing practices
Multiple sales channel to choose from
Revenue targeting formulas to produce steady cashflow
A lexicon that provides the framework for thinking like a pro
Click the button below to buy our $100k Pro Program.
Learn about SPIN farming, marketing, design and more!
With this program you get these step-by-step guides:
Guide # 1 - Overview of the SPIN-Farming system
Guide # 2 - Establishing a land base, City Farming's Competitive Advantages, and SPIN Farm design
Guide # 3 – SPIN Tools and Investments
Guide # 4 -  Key SPIN Concepts
Guide # 5 -  SPIN Grower's Guide
Guide # 6 – SPIN Work Flow Practices
Guide # 7 – SPIN Marketing
Guide # 8 -  Hobby Farm:  earn $10,000 - $20,000 gross income on 5,000 square feet (1/8 acre)
Guide # 9 - Intermediate Farm: earn $54,000 gross income on (20,000 square feet ( ½ acre) )
Guide # 10 - Deluxe Farm: earn $65,000 gross income on 40,000 square feet (1 acre)
Guide # 11 – Leafy Greens – earn $24,000 gross income on 6,500 sq. ft
Guide # 12 – Garlic – earn $23,250 gross income on 6,000 sq. ft.
Guide # 13 – Carrots and Potatoes - earn $32,000 gross income on 40,000 sq. ft (1 acre)
Guide # 14 – Lettuces, Salad Mixes, Radish, Scallion & Spinach- earn $35,000 gross income on 10,000 sq. ft. (14/ acre)
Guide # 15 – Flowers - $33,750 gross income 6,500 sq. ft
Guide # 16 – Four season marketing – earn $30,000 gross income in winter without increasing your growing space or buying expensive season extenders
Click the button below to buy our $100k Pro Program.
Testimonials: Look What Our Customers Have To Say
"I sold 11 bags of one crop and 6 bags of another crop. I'm so pleased because I am one of those shy people that have a hard time marketing myself. But I actually had fun at market! The Seed to Cash program was awesome because it got me out of my comfort zone. I felt comfortable at the market, engaged potential customers easily and found that it wasn't as scary as I thought it would be. I found that it was something that I could easily handle and felt confident about doing it again with more crops."
"I received absolutely raving reviews on my Seed to Cash product. Everyone I spoke with who bought a bag thought it was delicious. We will certainly be having repeat customers. It's a product that sells itself."
"NEXT GOAL: Perfect my work flow and record keeping so that I can advance to level 3 and double my income to $2,000 a week."
Forum Access Included:
$100k Pro Program with 2 months Forum access for free, then $7.97 USD for each month